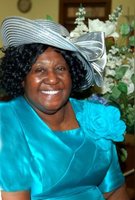 Beatrice Forbes
Beatrice Bethea Forbes was born on December 10th, 1939 in Florence, South Carolina to the late Thomas Cash and Pauline Bethea. She was the youngest surviving child of eleven children. Since entering this world "Baby" Beatrice was quite sickly and had to fight for every breath, but her endurance prevailed.
As a child, Beatrice attended public school in Smithfield, North Carolina. In 1950 at the age of evelen, her sister Louise Bethea moved the family to Philadelphia Pennsylvania where she continued her education.
It was in Philadelphia where Beatrice attended Church of God at 17th & Alter and accepted Jesus Christ as her Savior. From that moment on, she lived a life dedicated to Christ by spreading His gospel with everyone she encountered. She allowed God to use her ministry through song. In fact, she sang her first solo at the Norristown Church of God in Norristown, Pennsylvaina.
After the passing of her mother Pauline, the now teenage Beatrice moved to Newburgh, New York and continued her Christian life at Holy Temple United Holiness Church. While singing she met and married Willie Lee Forbes of Tallahassee, Florida. To this blessed union seven beautiful, bouncing children were born within a four-year span. Although unbeknowst to her, the Lord would later bless her to adopt a set of idenical twin boys almost twenty years later.
In 1968, Beatrice returned to Philadelphia and raised her children in holiness at The Church of the Living Christ under Reverend Alex and Annie Peral McNeal. She became a homecare provider for both foster children and adults with disabilities. Her hospitality and affability reached a number of souls and exemplified to those around her how a Christian ought to live. For her volunteer efforts, she was awarded at Mercy-Douglas Hospital in Collingdale, Pennsylvania.
Finally in the winter of 1991, after yearning to live on land of her own, she moved to Sicklerville, New Jersey and was then installed as church Mother of the Glassboro Church of God by Bishop Bethel Chapman. Mother Forbes continued to care for disabled adults while preaching and evangelizing in the tri-state area. She fervently ministered to the congregations at church, as well as the people she encoungted in her everyday life. She would often bodly ask newly acquainted people. "Where are going to spend eternity, with the angels in haven or the demons in hell?"
Throughout her life, Mother Forbes enjoyed traveling around the world, visiting places such as Alaska, Great Britain and France, eating Soul Food and relaying stories from her childhood. She was known for her distinct "jazz age" singing voice and her striking hats. She completed her Christian walk at the Lighthouse Pentecostal Church under the leadership of Elder Stephen D. Forbes Sr. On January 11th 2018 after a short battle with cancer, the Lord Jesus Christ led Beatrice Bethea Forbes to claim ownerhship of her heavenly mansion.
A wife, a mother, a sister, an aunt, a grandmother, a great grandmother, a preacher, a caregiver, a friend and a Christian - Mother Beatrice Bethea Forbes embodied all of these roles and more throughout her seventy-eight years here. She leaves to cherish her memory nine children, Kim Forbes of Atlanta, Georiga, Stephen D. Forbes and his wife Aloren of Mullica Hill, New Jersey, Yolanda Ilimbi of Cleveland, Tennessee, Keith Forbes and is wife Donna of Las Cruces, New Mexico, Karen Forbes and Kally Forbes of Sicklerville, New Jersey, Beatrice Health and her husband Charles of Washington Township, New Jersey, Michael Forbes of Sicklerville, New Jersey and Dennis Forbes of Mantua, New Jersey. Mother Forbes also had a special love for her tenth child she provided caregiving service and love to, Ahmad Battie.
God Blessed Mother Forbes with fifteen grandchildren: Charissee, Diandre, Kiersten, Brandon, Nicole, Lami, Nayungo, Jackie, Delorean, Elyssia, Stephen Jr., Jalen, Syriana, Sidnee, and Layla. She was fortunate to have had three great grandchildren, Jada, Natasha and Elijah as well as her grandchildren's pet dog Gucci, whom she adored.
Mother Fordes is survived by three siblings, James Bethea of Newburgh, New York, Pauline Thomas and Roszsie Lee Knight of Voorhees, New Jersey, along with a host of nieces, nephews, relatives and friends who loved her.
Lovingly submitted by The Family