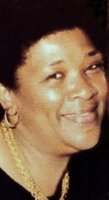 Patricia L. Parrott
Patricia L. Parrott (Elam), age seventy three, of Pleasantville, New Jersey, was called home Wednesday, January 31, 2018, at the AtlantiCare Regional Medical Center in Pomona, New Jersey, after a courageous fight with an unexpected illness. God saw fit to call her from labor here to her Heavenly home.
Patricia was employed by Stockton University for the past eight years. She was born October 29, 1944, in Atlantic City, New Jersey, to the late Elizabeth and Royce Elam. Patricia attended Atlantic City Public Schools and was a lifelong area resident.
In her too short time with us, Pat touched so many lives with her kindness, quick wit, and heart-felt laughs. She especially loved cooking and entertaining her family and friends. No family event was complete until "Aunt Pat" - as many lovingly called her - had put her seal of approval on it. We are forever indebted to our mother, grandmother sister, aunt, and friend for her ceaseless dedication and support. Eternally, she will remain in our hearts.
In addition to her parents, she is predeceased by her husband, Marcus Parrott; her brothers, Leroy and Richard Elam, and Charles "Sonny" Hart; and sister, Paulette Elam.
In her passing, she will be truly missed as she leaves to cherish her memory: her daughter, Elizabeth Elam; grandchildren, Devyn (Amanda), DeMarqis, Darnel (Candice), Diamond, Da'Lyn, Demetreus, and Destiny; stepgrandchildren, Kia and Khalleef Harewood; great grandchildren, Remi and Josiah Elam; brothers, Robert Elam (Barbara) and Royce Hart (Darleen); sisters, Carolyn Joann Elam-Crisden (Louie), Debra and Dorothy Hart; sister-in-law, Louise Elam, and a host of cousins, nieces, nephews, and dear friends.